Buffalo China Lune Ware Monkey Dish
Buffalo China Lune Ware Monkey Dish
This monkey dish (small bowl) measures 4 3/4" in diameter and is the perfect small side dish for vegetables or condiments.
Heavy duty vintage restaurant ware in a creamy blue gray color made in Buffalo, New York.
From a stock of vintage, unused Buffalo China restaurant ware. Very limited quantities available. Also available: Coffee Cup & Saucer, Bread & Butter / Dessert Plate. The display steak and corn can be found separately in our Gifts section.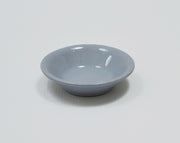 Buffalo China Lune Ware Monkey Dish